Programs and Services
High School Transition Programs
We help youth with disabilities achieve a successful transition from school to their life following school. This could include post-secondary education, vocational training, employment, continuing and adult education, adult services, or community participation. We are here to help individuals find the tools to succeed no matter what path they choose in life.
Through Job Foundations, we help prepare high school students for the workforce and connect them to other services they may need once they graduate. We do this by learning what skills and support they need to become successful in their chosen career and then working with their school to help them master these skills. This includes helping students receive vocational, academic, and life skills training from junior year of high school through senior year, helping them find a job or additional vocational training to help them achieve success.

For students that need more time and support to ready themselves for the Job Foundations program, Entrust acts as a liaison between the school district and the family to ensure students receive the resources and support needed to meet appropriate transition and pre-vocational goals.

During the High School Transition programs, students remain enrolled in high school while participating in our program which allows them to remain eligible for the Social Security Student Earned Income Exclusion if they get a job. The ultimate goal is for students to finish these programs with a job or connection to post-secondary education.
The High School Transition programs serve any student with a documented disability referred by the school district. The program typically serves individuals with developmental disabilities, autism, hearing impairments, visual impairments, or cerebral palsy.
Job Foundations is funded by the Division of Vocational Rehabilitation and the student's county. Project Discovery is funded by the student's school district. Additional funding may be provided through the Division of Developmental Disabilities. Students typically do not pay a fee directly. However, private pay options are available if other resources cannot be found.
Watch the video below to learn more!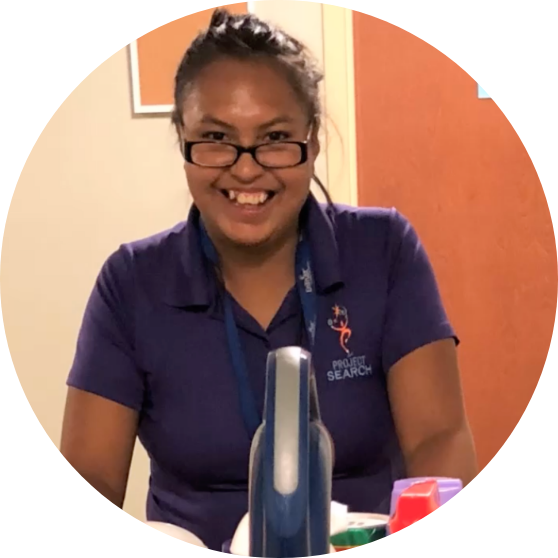 A High School Transition Program graduate, Bertha has worked as a custodian at Yakima's YWCA for over four years. Although she's quiet, Bertha is known for her dependability, pleasant personality, and gracious smile.