Programs and Services
Individual Supported Employment
We help prepare individuals with disabilities and those experiencing poverty enter the workforce. These services are tailored to individual needs, interests, and abilities, and promote career development. We help people prepare for, find, and keep jobs in the community.
Participants are typically referred by the Division of Developmental Disabilities, the Division of Vocational Rehabilitation, the Department of Services for the Blind, DSHS Basic Food Employment and Training, or Foundational Community Support programs.
We provide a wide range of services to help individuals find pathways to a successful career. These services may include vocational assessments, employment planning, job preparatory classes, job readiness activities (building a resume, application assistance, etc.), job development and coaching, or career advancement assistance. Typically, we work with individuals in the workplace, during classes, or through vocational counseling. Our staff are typically available for job coaching and support services seven days a week.
Our employment services provide the following:
Don't know where to start? We pay for the individual to work on-site with a real business so we can learn about their interests and work-related skills. We then take what we learn and recommend some options that are the best fit for them.

Do you need job training? Our training programs can teach you the skills you need for your next job. Opportunities include janitorial, retail, manufacturing, and others. Ask today how we can help!

Do you need help finding a job? Develop a career portfolio that includes your resume, cover letters and references. We can even help you prepare for the interview. Our network of business partners are waiting to hear from you!

Do you need help keeping your job? We use on-site, face-to-face counseling to help 8 out of 10 people keep their jobs longer than 90 days. You can learn how to resolve conflicts, communicate with co-workers, and other important skills that we will help you succeed in your new job!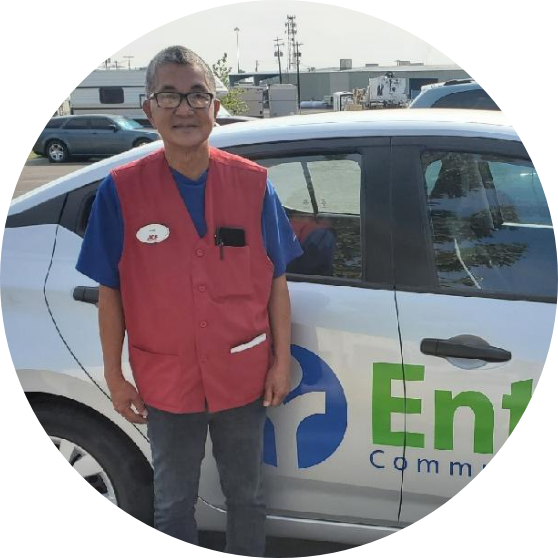 Through Entrust's Individual Supported Employment Program, Ernesto was able to rise out of poverty and homelessness to secure a steady job at Griggs in Pasco. Waiting on customers, stocking products, and doing inventory, Ernesto is now completely independent and no longer in need of support from Entrust.